I love being silly. My children and husband are mortified by my ability to be crazy and silly... like the time I yelled "I farted" out the window while leaving the mall. Kiley wasn't happy- and thought that my silliness would land her on the Internet! Life is too short to be stuffy and serious all the time... even most of the time. I prefer to laugh and make others laugh, so here are my 13 favorite "get silly" books. These will be a hit for any read aloud and for any age- you have my money back guarantee!
(Be warned- most of these books deal with booties, and I don't mean the pirate treasure kind).
1. Chicken Cheeks: The Beginning of the End by Michael Ian Black E BLA
Ok, to get me... to really know what makes me tick, watch the book trailer for this book, Chicken Cheeks. I know I am 37 years old, "butt" this book cracks my stuff up! Anytime you can search for "buttocks fiction" in the library catalog, you know it's going to be a good book!
2. How Do You Wokka Wokka by Elizabeth Bluemle E BLU
This is such a fun book! The book asks "How do you wokka wokka?" and each character in the book tells you! It's a great movement book with great rhythm. "I wokka-wokk a like flamingos in a flocka—croakie-yocka leggy-longy pinky-hoppa-hoppa!" When I read this to a class, they can barely sit still. And they don't even know about the original wocka-wocka: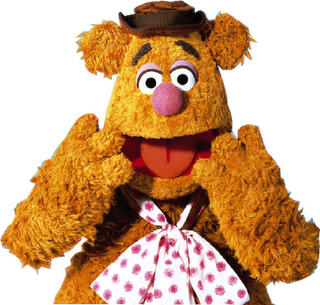 3. I Ain't Gonna Paint No More by Karen Beaumont E BEA
I absolutely love any book illustrated by David Catrow. May be if he would have illustrated my chemistry text book, I would have gotten a better grade in high school! This book
must
be sung to the tune "It Ain't Gonna Rain No More".... and is a huge hit with Kindergarten classes! A little boy has painted the entire house, so his mom takes his paints away and hides them in the closet. The little boy finds the paint, and commences in painting his entire (and I mean his entire) body. He's such a nut, gonna paint his... and his mom stops him and throws him in the bathtub. I love this book!
4. King Bidgood's in the Bathtub by Don & Audrey Wood E WOO
The King is in the bubble bath, and refuses to get out. The Court does everything they can to get him out of the tub- they invite him to eat, to dance
,
even to join a battle. All the while, a little servant boy watches... and he knows how to get him out of the tub! He pulls the plug!
This is a great rhyming book that kids will want to hear again and again!
5. Wolves by Emily Gravett E GRA
The little Rabbit in this book borrows a book about wolves from her local "burrowing" library. On her way home, she begins reading, and becomes so engrossed in the book, that she doesn't realize that she is now in the book and the wolf is after her. What do wolves eat? Rabbits of course... is this a happily ever after book? I ain't tellin'!
6. Flim Flam Fairies by Alan Katz E KAT
When I tell a group of kids that I am going to read a book about fairies- I am greeted with shrieks of pleasure from the little girls and groans of disgust from the boys... fairies are dainty, pretty, all glitter and light. Not the Flim Flam Fairies! When you read this book, be prepared for the fart fairy, the clipped toenail fairy, the snot fairy and the dirty underwear fairy! These lesser-known fairies are tired of the tooth fairy getting all the glory- and they are here to convince you to leave something new under your pillow tonight. Ew! I love it!
7. Backbeard and the Birthday Suit: The Hairiest Pirate Who Ever Lived by Matthew McElligott E MCE
Backbeard is a pirate who lives a rough life at sea with his crew. (He has never been able to keep a parrot) After a surprise birthday party, he starts to think that he needs to give up
the pirate life and heads ashore. His first stop is at a tailor to get a new outfit. The tailor dresses Backbeard in the most ridiculous outfit a pirate could ever wear. When he decides to head back to his ship, his crew doesn't recognize him, which leads to an interesting welcome! I love reading this book because I get to talk like a pirate!
8. Moo Who? by Margie Palatini E PAL
Hilda Mae Heffer is in the pasture singing (not very well, mind you!) when she is hit in the head by a flying cow patty! When she comes to, she has lost her memory and lost her moo. She walks through the barnyard looking for an animal that is like her. She does her best imitations of each animal that she meets, but nothing feels right. In the end, she finds her moo and discovers that it's ok to just be you... and she learns to sing like nobody is listening! Beware that when I read this book, all doors in the library will close!
9. Duck! Rabbit! by Amy Krouse Rosenthal E ROS
This book can cause massive controversy in your home. Is it a duck? Is it a rabbit? Watch this trailer to get a sneak peek and see what you think!
10. Yes Please! No Thank You! by Valerie Wheeler E WHE
Kids these days... sheesh! They really need to work on their manners! This book will help. Each page asks the audience a question- they can either answer "yes, please" or "no thank you". You try: "Would you like to go to the fair and go on all the rides?" (yes please!) "Would you like to throw up on the lady next to you?" (no thank you!) In all the years that I have read this book, it never fails that the little boys ALWAYS reverse their answers!
11. Always Lots of Heinies at the Zoo by Ayun Halliday E HAL
Um... I will just let the video speak for itself.
12. Duck for President by Doreen Cronin E CRO
With all the drama in politics these days, you should consider voting for Duck. Watch his campaign video and see what I'm talking about. Remember when Bill Clinton played the saxophone on the Arsenio Hall Show? That is totally where Duck got the idea!
13. Diary of a Wombat by Jackie French E FRE
What do wombats do all day? This books chronicles the day of a wombat: 8 o'clock slept, 11 o'clock slept, 12 o'clock ate, 1 o'clock scratched... The wombat also spends his time digging in a garden, burrowing under a house and eating flowers from a garden. I didn't know I loved wombats until I read this book
!