I guess I am still in the mood for love, because this week I give you 10 stories of unlikely friendship and love.
And Tango Makes Three by Justin Richardson & Peter Parnell
E RIC
This tale based on a true story about a charming penguin family living in New York City's Central Park Zoo will capture the hearts of penguin lovers everywhere. Roy and Silo, two male penguins, are "a little bit different." They cuddle and share a nest like the other penguin couples, and when all the others start hatching eggs, they want to be parents, too. Determined and hopeful, they bring an egg-shaped rock back to their nest and proceed to start caring for it. They have little luck, until a watchful zookeeper decides they deserve a chance at having their own family and gives them an egg in need of nurturing. The dedicated and enthusiastic fathers do a great job of hatching their funny and adorable daughter, and the three can still be seen at the zoo today.
(School Library Journal)
Nacho and Lolita by Pam Munoz Ryan
E RYA
Each year on the March feast day of St. Joseph, the swallows return to the Mission. This tale is told from the perspective of another avian wonder, a once-colorful
pitacoche
. How it becomes a plainer-looking creature is at the heart of this pourquoi tale. Nacho, an extravagantly colored bird who lands at the Mission, is unimpressed with the arid landscape, but nonetheless does his best to entertain the native peoples and friars with his haunting melodies and bright appearance. Human acclaim, however, does not compare with the company of other birds, and so he eagerly anticipates the rumored return of the swallows. Nacho bonds with them and in particular with a sweet little female named Lolita. Much as he would like to accompany the swallows when the flock departs, it proves impossible for the big, ungainly bird. Initially distraught, he channels his energy into creating a surprise for them upon their return, and as a by-product leaves a lasting legacy of color and beauty for the Mission.
(School Library Journal)
Owen & Mzee: The Story of a Remarkable Friendship by Isabella & Craig Hatkoff
When the six-year-old contributor to this book saw the photograph documenting the extraordinary friendship between a baby hippo (Owen) and a 130-year-old giant tortoise (Mzee), she persuaded her father to help tell their story. Originally an e-book, the hardcover version begins with images of the duo, whetting readers' appetite and providing reassurance as the potentially disturbing plot unfolds. After a scene depicting a pod of hippos near the Sabuki River in Kenya, the text describes the 600-pound baby's displacement and separation from the group during the 2004 tsunami. Children witness the challenging rescue and meet the knowledgeable staff at an animal sanctuary. From Owen's first approach for protection to Mzee's unexpected tolerance, the photographs, mostly by BBC photojournalist Greste, capture the pair eating, swimming, snuggling, and playing together. Their contentment and peace are palpable. Because it is sensitively structured, with careful choices about what is emphasized and illustrated, the situation does not overwhelm readers. The text and the back matter are brimming with information about the animals, their caregivers, and the locale. This touching story of the power of a surprising friendship to mitigate the experience of loss is full of heart and hope.
(School Library Journal)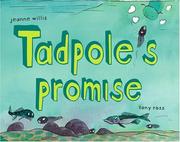 Tadpole's Promise by Keanne Willis
E WIL
Ross's vibrantly hued pen-and-ink and watercolor cartoons depict the edge of a pond where a caterpillar and a tadpole meet and fall in love: "She was his beautiful rainbow, and he was her shiny black pearl." Perched on a leaf above the water, she smiles down at her sweetheart and asks him to "Promise you'll never change." Although he agrees, some vows are difficult to keep, and when they next meet, he has sprouted two legs. She forgives him, but after he breaks his promise twice more and now looks more like a frog than her "shiny black pearl," the lovelorn larva ends the affair and cries herself to sleep (sequestered in a cocoon). Meanwhile, the melancholy frog sulks around the pond, making heart-shaped air bubbles that rise to the surface and burst. When the caterpillar awakens, now a butterfly, she decides to forgive her beloved and flies above the water to find him. Without a thought, the frog swallows her whole, and then returns to wondering about whatever happened to his "beautiful rainbow.
(School Library Journal)
Farfallina and Marcel by Holly Keller
E KEL
A gentle story about sustaining friendship in the face of change. One spring, a young gosling, Marcel, and a caterpillar, Farfallina, become close friends. Similar in temperament and considerate of one another's strengths and weaknesses, they like spending time together. One day, Farfallina feels very strange and she climbs a tree to rest. After weeks of patiently waiting for her return, Marcel realizes that he must go on without her. When the two meet again, they don't recognize one another at first: one has become a beautiful butterfly and the other an elegant goose. But they soon discover that, though they look different, they still are the best of friends. Watercolors in predominantly blue and green decorate the quiet tale, which includes an author's note on how caterpillars become butterflies.
(School Library Journal)
A Splendid Friend Indeed by Suzanne Bloom
E BLO
Children will recognize their relationships with friends or siblings in this creative, pointed picture book. Polar Bear is reading when Goose comes rushing in, pulls the book from the bear's hand, and begins reading himself. The same thing happens after Polar Bear starts writing. Even more frustrating are Goose's persistent questions about what the bear is thinking. But after hearing a note Goose has written about his "splendid friend," Polar Bear realizes that Goose is a splendid friend, too.
(Booklist)
Boxes for Katje by Candace Fleming
E FLE
In May 1945, a Dutch girl named Katje is thrilled to receive a letter and a package of socks, soap, and chocolate from Rosie, a girl she doesn't know who lives in Mayfield, Indiana. The kids start to exchange letters, and when Rosie's family members learn of Holland's severe post-war deprivations, they enlist Mayfield residents to send food and clothes to Katje, who generously shares the gifts with others in her community. The sense of suffering isn't strong here, in part because the Dutch townspeople are almost always depicted as smiling about the packages. But the story is still moving, and Dressen-McQueen's lively illustrations, in colored pencil, oil pastel, and acrylic, pack lots of color, pattern, and historical details onto every expansive page. Fleming based the book on her mother's experience, which she describes in an author's note; in the real-life story, however, adults, not children, orchestrated the events, a finding that may be a little disappointing to kids who took the book, with its specific dates, town names, and heroic, generous children, as straight fact.
(Booklist)
Cat and Fish by Joan Grant
E GRA
Cat and Fish come from different worlds — he from the land, she from the sea. But when they meet in the park one night, they like each other's looks. Cat shows Fish his world and teaches her how to climb, how to take shelter from the rain, and how to stay warm. But Fish misses the sea, so Cat takes her back and meets her friends and discovers the water world. Then the trouble starts. Opposites may attract, but can they find common ground and stay friends? Neil Curtis's stunning black-and-white illustrations make this whimsical story of how two unlikely soul mates overcome their differences spring to life.
(Amazon.com)
Leonardo the Terrible Monster by Mo Willems
E WIL
Leonardo is supposed to be a terrible monster, but he's just terrible at his monsterly craft. Small, with big blue eyes, a blue tongue, and a furry body, Leonardo looks like a tiny, unassuming brother of a Wild Thing. He gets an idea: find the most "scaredy-cat kid" in the world and "scare the tuna salad" out of him. He finds Sam, who seems an easy mark and bursts into tears. But Willems lists the real reasons Sam is crying, starting with "My mean big brother stole the action figure out of my hands" and ending with a bird's pooping on Sam's head. After thinking it over, Leonardo decides to move from terrible monster to wonderful friend.
(Amazon.com)
Horton Hears a Who by Dr. Seuss
E SEU
Surely among the most lovable of all Dr. Seuss creations, Horton the Elephant represents kindness, trustworthiness, and perseverance--all wrapped up, thank goodness, in a comical and even absurd package. Horton hears a cry for help from a speck of dust, and spends much of the book trying to protect the infinitesimal creatures who live on it from the derision and trickery of other animals, who think their elephant friend has gone quite nutty. But worse is in store: an eagle carries away the clover in which Horton has placed the life-bearing speck, and "let that small clover drop somewhere inside / of a great patch of clovers a hundred miles wide!" Horton wins in the end, after persuading the "Who's" to make as much noise as possible and prove their existence. This classic is not only fun, but a great way to introduce thoughtful children to essentially philosophical questions. How, after all, are we so sure there aren't invisible civilizations floating by on every mote?
(Amazon.com)