Today's Thursday 13 is a continuation of
this post about dog books
. I should have done dog books first because there just aren't those great classics about cats. I mean, imagine Old Yeller as a cat... or Shiloh as a Cat or 2 cats in Where the Red Fern Grows. That could never happen. Don't get me wrong, we do have a purrrfect selection of cat books in our library! Get your paws on these!
Practice your Texas Twang if you are going to read this book to a group of kids! In this feisty rendition of Puss in Boots, a humble rodeo clown named Clem up and kicked the bucket, and it is his youngest son, Dan, who inherits Clem's scraggly old tomcat, Puss. Dan figures the only way he can profit from Puss is by cooking him into a pot of three-alarm chili and using his fur for a hatband. A clever Puss saves his hide (and earns wealth and respect for Dan) with the help of a shiny pair of red snakeskin cowboy boots.
This is a wordless adaptation of one of Aesop's most beloved fables. An unlikely pair learn that no act of kindness is ever wasted. After a ferocious lion spares a cowering mouse that he'd planned to eat, the mouse later comes to his rescue, freeing him from a poacher's trap. This book is great for sharing with a large group, but make sure the kids in the back can really see the beautiful illustrations.
This book is based on this YouTube phenomenon.
Wait- get a Kleenex before you watch it.
5. Carousel Cat by Robert J Blake
E BLA
This book is the book that will make kids say "Ahhhh" and then "Ohhhh" and then "Ahhhh" again. I guarantee it. This is the story of a man who runs the carousel on the boardwalk. Every morning, a stray cat sneaks into the carousel through a broken window to greet the man. They become fast friends and eat lunch together and spend their days together. The owner of the boardwalk tells the man that a new theme park has opened and he is closing down the boardwalk. As the man prepares to close up the carousel, his feline friend disappears. On the day that the man is to pack and leave, he still can't find the cat, and while he is searching for her, he sees that the restaurant next to the carousel is in flames. He looks up and sees the cat running into the flaming building. Why is she going in there? Will she make it out? You know I'm not going to tell you, don't you?
7. Kitten Red, Yellow, Blue by Peter Catalanotto
E CAT
Sixteen calico kittens -- the number of colors in a crayon box. Their mother, Sophie, knows one from another...but how do you think Mrs. Tuttle tells those kittens apart? Peter Catalanotto's sequel to his Matthew A.B.C. and Daisy 1, 2, 3 invites long looking, counting, and laughing!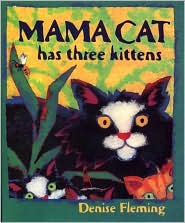 8. Mama Cat Has Three Kittens by Denise Fleming
E FLE
Fluffy, Skinny, and Boris tag along with Mama Cat all day long. Actually, Boris just naps. He snoozes while the others wash their paws, walk the stone wall, sharpen their claws, chase leaves, and engage in other fundamentally feline pastimes. But when the others curl up to nap, Boris stretches, yawns, and comes to life!
9. Kitten's First Full Moon by Kevin Henkes
E HEN
Any child who has yearned for anything will understand how much Kitten wants that elusive bowl of milk. Readers will giggle as she tries to lick the faraway moon and gets a bug on her tongue, or leaps to catch it and falls down the stairs.
10. A Night on the Tiles by Bruce Ingman
E ING
The secret life of felines is revealed as an orange cat describes his nighttime activities. No, he doesn't chase mice or climb trees. He boards his scooter and heads for the Cat Academy, where he studies fashion, designs a tree house, and learns all about vehicle maintenance from Professor Nutty Bolts. After a trim at the barber's, he meets his friend Audrey at the cafe for a banana milkshake, and then it's off to the movies or the dog races. As the sun rises, he returns home in time to greet his owner.
11. Wild Things by Clay Carmichael
F CAR
I don't know why, but my favorite books are those where the mother has died or taken off, leaving the children behind. After years of book talking books like this, my kids know- and I often get asked why I like such depressing books. I think I like the human survival story... the story of a kid that must survive the life that they have been given, and not a tsunami or an earthquake. The main character, Zoe, in this book is a survivor. Her mother has committed suicide after being in a mental institute on and off. The only adults in her life are the boyfriends that Zoe's mom had. When her mom dies, she is sent to live with an uncle that she has never met. She doesn't trust him, or even like him- why should she trust 1 more adult who will let her down? As Zoe comes to know her uncle, she learns that they are both very much alike- they have both suffered losses, they both have trouble trusting people, and they both need someone to love. So why is this book on a list about cats, you may ask? Well, because a black and white stray cat lives on the property where Zoe comes to live. This cat watches the "wild things" (humans), and is fascinated by their behavior. The cat alternates chapters with Zoe, so this book is best for older readers who will know when the voice is changing. I really think this book should have won the 2010 Newbery.
See my post about Bizzaro World to see my other rants bout this topic!
12. How to Save Your Tail if You are a Rat Nabbed by Cats by Mary Hanson
F HAN
This is a very fun book that would make a great oral lit book. A rat that is living in Cinderella's castle loves to tell stories and bake. One morning he is in the kitchen baking a cake when he is approached by 2 cats- who want to eat him. He stalls the cats by telling them stories- they are all familiar stories but with rats as main character. Very funny, very witty- a great choice for a reluctant reader!
13. Cat Colors by Jane Cabrera
E CAB
This sweet concept book is a playful feline invitation to learn colors. "What is my favorite color?" asks Cat and proceeds to explain the wonder in every color in nature. "Is it Green? Green is the grass where I like to walk...Is it Blue? Blue is the sky where I chase the birds.". Energetic Cat is an endearing narrator, who fairly bursts with the exciting secret that is the question's final answer: "Is it Orange? Yes! because...Orange is the color of my mother."